Overview
 I ordered a prototype with the following contents.
Modeling test using Shapeways service.
ROKUHAN Z-Shorty normal type bogies is used for the trailer.
Trailer current collection support and Changed floorboard design to support ROKUHAN coupler pockets.
Minor modifications to the design
Knuckle coupler modeling test
Details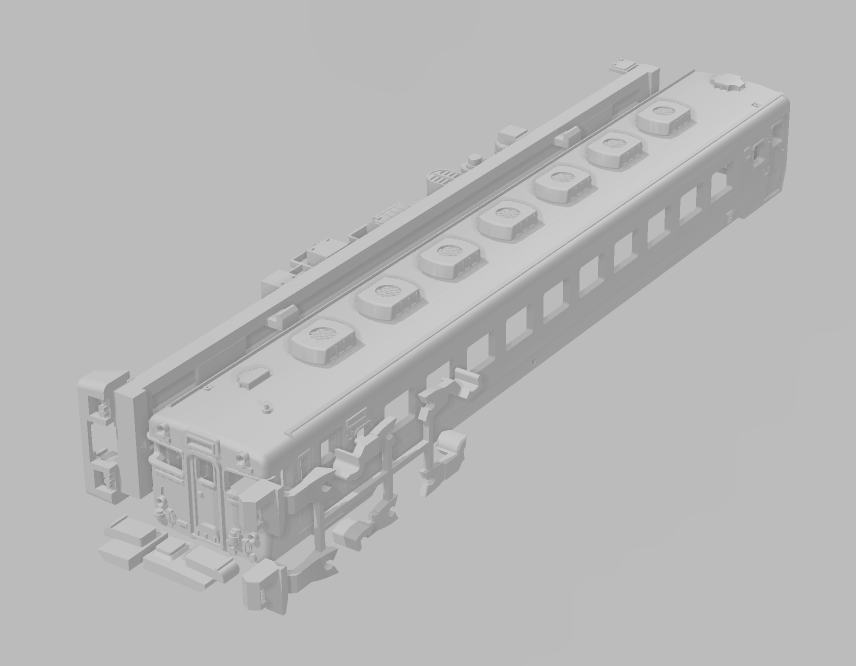 Since the acrylic modeling service in Japan is scheduled to end, we requested acrylic modeling at Shapeways. This time, we will also check the influence of Smoothest and the modeling direction with Fine Detail Plastic.
 The coupler pocket is separated from the ROKUHAN bogie and mounted directly on the floorboard, and the mounting position has been raised to avoid the skirt. Therefore, we have newly designed an Arnold type coupler that matches the height of existing products and a knuckle coupler that matches the coupler pocket of ROKUHAN.
 Depending on the condition of the prototype, we will finish it up to painting and release it if there is no problem.
Target model
JNR Kiha 28 1500th air-conditioned car type
JNR Kiha 58 1000th air-conditioned car type
JNR Kiha 58 400th air-conditioned car type